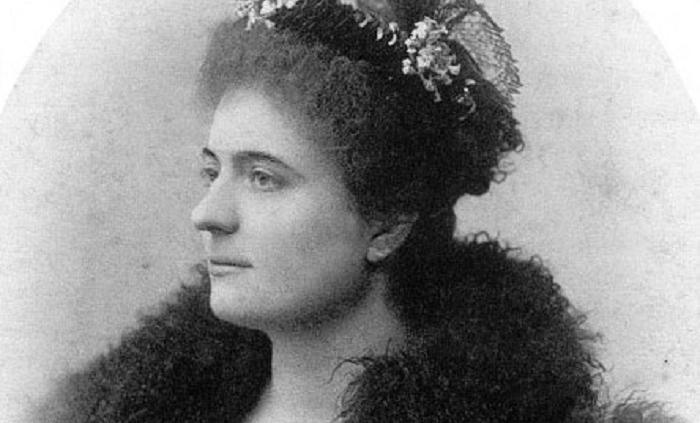 Puccini met Elvira Gemignani in 1884 whilst giving her piano lessons. She was to become his lover though she was already married. Soon it became clear that she was expecting a child and not her husbands. This is was a shocking situation in 19th century Roman Catholic Italy.
Undoubtedly Elvira and Puccini were happy in the early days before her possessiveness and jealousy dominated their lifelong relationship, and ultimately marriage.
Elvira had a jealous disposition and attempted to control Puccini. He was not only creative as a composer. For instance, he is known to have paid pupils to play the piano in his study giving the impressions that he was there composing. Meanwhile he slipped out of the windows and Elvira slept soundly thinking he was hard at work at home.
In September 1908 Elvira's jealousy led to a real-life tragedy as dramatic as an operatic plot. She became suspicions of one of their servants, the twenty-three year old Doria Manfredi, and was convinced that the girl was sleeping with her husband. Not only did she dismiss her, but hounded Doria and spread rumours. The situation became so intolerable to the poor girl that she drank poison and suffered a lingering and painful death. Puccini, very fond of the Doria, was devastated. Knowing she was innocent her family sued for defamation and Elvira narrowly avoided imprisonment. She was in fact sentenced to five months but Puccini stepped in and he and his lawyers persuaded the family to drop the lawsuit and paid them off.
Elvira was right to have her suspicions: Puccini was having an affair with another woman at that time, but not Doria!
Puccini died in 1924 and Elvira followed him in 1930
https://londonfestivalopera.co.uk/wp-content/uploads/2020/03/0321.jpg
565
700
Philip Blake-Jones
https://londonfestivalopera.co.uk/wp-content/uploads/2019/03/lfo_logo_final_layers-web-180x180.png
Philip Blake-Jones
2020-03-02 17:12:53
2020-03-02 17:12:55
Puccini & Elvira - a real-life tragedy