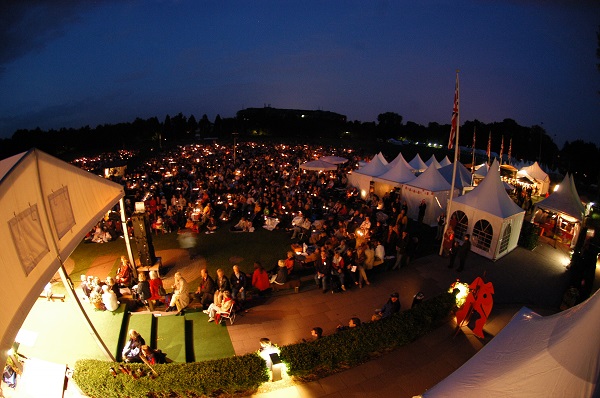 There are many wonderful music and arts festivals around the world, with more springing up all the time. As our name suggests, you may not be surprised to hear that it is those that feature classical music which hold a special place in our hearts!
London Festival Opera has been lucky enough to have performed at many wonderful festivals in some stunning locations around the world, in the UK, the Windsor Festival, Salisbury Festival, Church Stretton Festival to name but a few. Overseas we have appeared at HIFA (Harare International Festival of the Arts), The Holders Season in Barbados and The British Day in Hamburg, amongst others. No matter where the location, the atmosphere has always been electric!
The beauty of festivals is they have often arisen out of the passions of one or two people who have then worked tirelessly to see their vision become reality.  They can therefore offer an eclectic selection of niche cultural riches, whether following a specific genre of the arts or perhaps the heritage of the festival's location itself.  Bringing opera to a music and arts festival not only allows existing lovers of the art to indulge further in their passion, but it also brings opera to a potentially wide and diverse audience, some of whom might not previously have experienced (or imagined they might enjoy) the thrill and joy of a live opera performance.
Music is a language which crosses the boundaries of history and international borders, and no matter where the roots of our own personal heritage lies it is a language we all speak, to a certain extent. Whether it is the rhythms of tribal music or the heart-stretching climax of an operatic aria which sets our hearts racing, we all have within us the capacity to be moved by music, transported (if only for a while) to another place. No matter where our passions lie there is a festival out there for us, one which will offer us a musical experience like no other.
A particular thrill for us as an opera company, has always been the audience's reaction to our performances at festivals. In the intimate setting of the Baroque Hall of Trafalgar Park our audience was only feet away, giving lots of scope for interaction and involvement. Seeing the smiles and tears was just wonderful! At the other end of the scale was the response of the audience at HIFA in Harare; this attracted a crowd of over 5,000 for our Opera Gala Evening and to hear each of these people screaming for an encore is a memory which will never leave us! Equally, seeing a largely German audience waving mini Union Flags and enthusiastically singing 'Land of Hope and Glory' with us as we performed at the al fresco 'Last Night of the Proms' in Hamburg was a slightly bizarre but incredibly moving experience.
Live opera, up close, is stunning; it bristles with drama and passion and bubbles with humour and fun. Whatever the country or scale of location it is always a pleasure to share the power of opera and to perform the masterpieces of the greatest composers – with Handel, Mozart, Verdi, Bizet and Puccini you can never go wrong!
https://londonfestivalopera.co.uk/wp-content/uploads/2019/06/Last-Night-of-the-Proms-in-Hamburg-RESIZED.jpg
398
600
Philip Blake-Jones
https://londonfestivalopera.co.uk/wp-content/uploads/2019/03/lfo_logo_final_layers-web-180x180.png
Philip Blake-Jones
2019-06-26 12:19:02
2019-06-26 12:39:46
Opera for Festivals