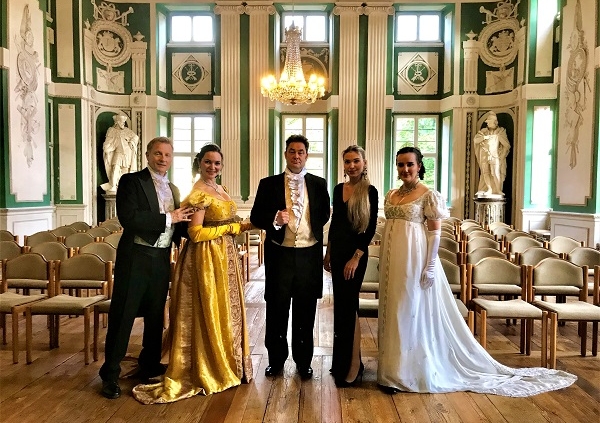 We recently had the pleasure of performing in the stunning Green Hall of Amorbach Abbey in Germany. A more fitting setting for a performance of live opera would be hard to imagine, but this one in particular has a fascinating history with an interesting historical significance to the British Royal Family, which gives the location an especially wonderful atmosphere. 
Amorbach Abbey was originally a simple Benedictine Monastery, set in its current location from 734AD. Several turbulent centuries followed, throughout which it survived various wars and uprisings, and the Monastery then went on to enjoy wealth and significant power in the region, in the 1740's the buildiongs undergoing a major Baroque refurbishment. The Abbey building remains to this day a significant example of early Rococo style architecture, although the Green Hall in which we performed, is in the Neoclassical style. The Monastery itself was finally dissolved in 1803 with the Abbey buildings and lands being given to the Princes of Leiningen as compensation for lost territories occupied in 1793 by French revolutionary troops. The Abbey buildings are still occupied by the Leiningen family to this day.
We all know, family trees can be a bit complicated – and the British Royal Family is no exception! Queen Victoria's mother, before her marriage into the British Royal Family, was married to Charles, Prince of Leiningen (she was his second wife, the first being her aunt!). They had two children and lived at the family seat, Amorbach Abbey. After her husband died in 1814 Princess Victoria of Leiningen remained in the Principality as Regent, still ruling from Amorbach. In 1818, and in response to a succession crisis in the British Royal Family (that's another story!) the then Duke of Kent proposed to her, and she accepted. They married at Amorbach and continued for a brief time to live there, returning swiftly to England in April 1819 in order to ensure their first child, Princess Alexandrina Victoria of Kent (the future Queen Victoria), could be born on British soil. The rest, as they say, is history….!
Our Regency cosumes worked particularly well in the period setting of Amorbach and it was a privilege to perform in a venue with such a pivotal link to our Royal Family.
https://londonfestivalopera.co.uk/wp-content/uploads/2019/10/Amorbach-Abbey-2019-resized.jpg
450
600
Philip Blake-Jones
https://londonfestivalopera.co.uk/wp-content/uploads/2019/03/lfo_logo_final_layers-web-180x180.png
Philip Blake-Jones
2019-10-29 13:33:18
2019-10-29 13:33:28
Royal Connections at Amorbach Abbey