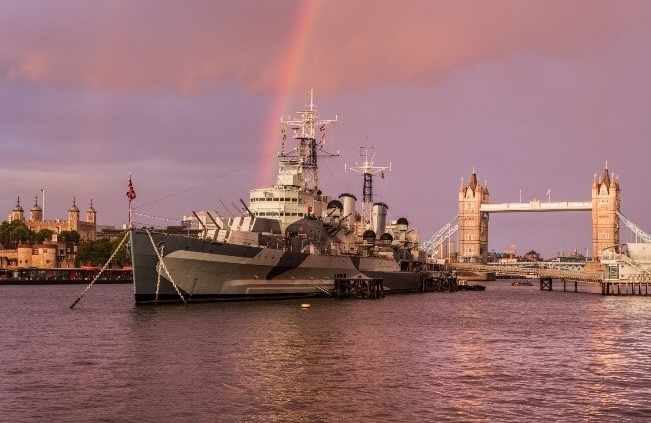 Where next? We have been lucky enough to perform in some stunning, unusual and historically important venues around the world, but we believe we made history last week performing opera for the first time during a private dinner in one of the elegant dining rooms on board HMS Belfast. Moored on the Thames by Tower Bridge in the heart of London and now open to the public for 362 days of the year, HMS Belfast is a fascinating museum ship supported by the Imperial War Museum and is well worth a visit!
The historic ship was originally launched on St Patrick's Day in 1939 shortly before the outbreak of World War II. She was built as a town-class light cruiser for the Royal Navy but after the outbreak of war she saw a great deal of action acting as a blockade ship, escorting convoys and in battle. After being struck by a German mine she underwent repairs and returned to action in 1942, going on to play a pivotal role in the Normandy landings. She is one of only three remaining vessels from the bombardment fleet which supported the Normandy landings on 6 June 1944 – the other two are now moored in the United States. Her bombardment of the German gun battery at La Marefontaine at Gold and Juno beaches meant that the battery was able to play no meaningful part in the defence of the beaches, allowing large numbers of allied troops to land in relative safety.
Legend has it that HMS Belfast fired the opening shots at the Normandy landings on 6th June 1944, however the ship's log confirms her first shots were actually fired four minutes after the first shot from a ship lying just to her west. During her 33 days supporting the landings, HMS Belfast fired an incredible total of over 5,000 shells and the force from the constant firing of her impressive armament of guns cracked the crew's loos! The invasion of Normandy was the last time HMS Belfast fired her guns. In July of that year, she set sail for Plymouth Devonport and a well-earned refit, before being despatched to the Far East.
A final fascinating fact about HMS Belfast: as she sits by Tower Bridge her guns are trained and elevated in such a way that they are aimed directly at the London Gateway (or Scratchwood Services), the last service station on the M1 before you get to London. The service station was chosen as the hypothetical target for obliteration as it happens to sit neatly on the radius of the guns' comfortable range (about 18.5 km at 45º elevation). Of course, the guns are no longer loaded or capable of firing, so you're pretty safe if you stop there for a sandwich!
https://londonfestivalopera.co.uk/wp-content/uploads/2019/11/HMS-Belfast.jpg
434
651
Philip Blake-Jones
https://londonfestivalopera.co.uk/wp-content/uploads/2019/03/lfo_logo_final_layers-web-180x180.png
Philip Blake-Jones
2019-11-25 13:34:42
2019-12-16 16:24:17
Opera on Board HMS Belfast