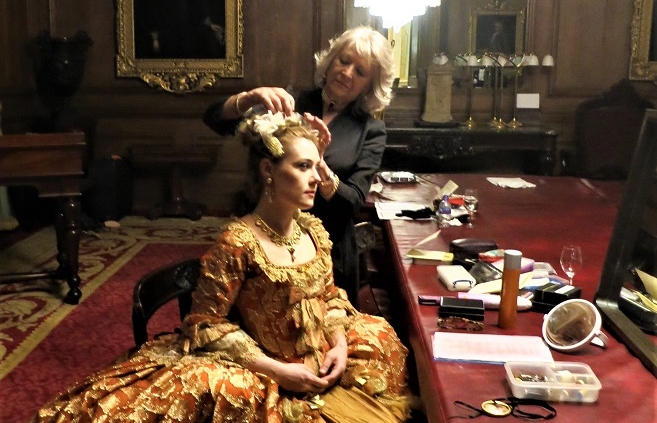 With over thirty years of performing under our belts and dozens, if not hundreds, of private and corporate engagements during that time it struck me recently, as I travelled round London, in just how many fantastic venues we have been lucky enough to perform. Our capital city has so very many beautiful and historic locations which lend themselves perfectly as venues for dinners, soirées, corporate events and receptions – and there can be almost no better complement for such an evening than live opera! It is very exciting to sing in a venue which was not necessarily built for performance – and with imagination and the power of live opera the thrilling possibilities are endless!
Some wonderful memories came flooding back as I travelled and the thought of setting out a 'London Festival Opera City Bus Tour' came to me – a pure indulgence of course, but one that fills me with pride!
We alight the 'bus' in Central London at St James's Palace, where we performed on several occasions for the Duke of Edinburgh Award Scheme in the presence of HRH The Duke of Edinburgh and TRH The Earl and Countess of Wessex. Carrying on up St James's Street passing by The Ritz Hotel (memories of a civil partnership dinner with Lucien Freud as one of the guests), and continuing down Piccadilly past the Royal Academy of Art (a surprise opera gala for a major charity – 'singing waiters' taking guests quite off their guard!) and Le Méridien Hotel (a series of in-house operas in their beautiful Oak Room). Passing the bustle of Piccadilly Circus we head down The Haymarket, reaching the Institute of Directors, where we presented a charity gala in one of the magnificent state rooms. Immediately opposite the IOD is the stunning Athenaeum Club (astonishing swimming pool!) where we performed at a wedding anniversary dinner with a programme including favourite arias of the hosts. On to The Reform Club, and I am reminded of our artists arriving for rehearsals only to be a little flummoxed by the strict dress code of 'no jeans and jackets and ties for gentlemen'!
We continue our journey down to Trafalgar Square flanked by the National Gallery (corporate dinners for a major bank amongst some of the world's most stunning masterpieces!), South Africa House (a charity gala in their beautifully formed intimate theatre), and down Whitehall to the Banqueting House (built by King Charles I, at the time not realising this would be the site of his own execution!). The bus continues on to 10 Downing Street, where we presented a charity performance in the Drawing Room for a distinguished audience.
By now I am feeling a little overwhelmed as I realise how fortunate we have been to have been asked to perform in these stunning historic settings. As performers, of course, we very often see 'the back stairs' side of a venue as well as the grandeur of state rooms – the behind the scenes experiences and insights are surely the basis for a book one day!
We have now arrived at The House of Commons and I remember with great affection a private performance for the personal guests of former The Speaker, Baroness Betty Boothroyd, in the Speaker's House.
Leaving Westminster we travel down the Embankment, looking back at a host of incredible buildings along the river – the Tate Gallery ('a Family Opera' in the lofty lobby), Lambeth Palace over the bridge (several charity occasions including one in the presence of HRH Princess Margaret), The Liberal Club at One Whitehall Place (corporate events in the beautiful Library), Middle Temple Hall (a thrill to perform in this ancient setting where Queen Elizabeth I attended performances of Shakespeare's plays), the Inner Temple and Grays Inn Hall (corporate and charity events). Finally there is the JP Morgan Building where we have performed at in-house corporate occasions.
Passing Blackfriars Bridge I reflect on the many performances in Livery Companies, most notably the Drapers' Hall (including an Edwardian Gala in the presence of HRH Princess Alexandra), Goldsmiths' Hall (for their many wonderful in-house opera evenings) and Fishmongers' Hall (several high-profile charity galas), to name but a few.
Our journey begins to draw to a close in the very heart of the City of London passing the Mansion House, where we had the honour to perform at charity dinners for several Lord Mayors. The Bus finally arrives at its destination – the magnificent Guildhall, where I remember with fondness a large-scale charity gala with soloists, ensemble and chorus. This is the very centre of our magnificent city and a wonderful place to end this journey of happy memories.
If you are planning an event and would like to find out how a live opera performance can enhance a dinner or reception please call me, Philip Blake-Jones, on 07802 183847. I can help you to plan a truly special event, and also provide plenty of inspiration if you haven't yet decided on a venue….!
https://londonfestivalopera.co.uk/wp-content/uploads/2019/07/MIrella-Dressing-Room-resized.jpg
800
657
Philip Blake-Jones
https://londonfestivalopera.co.uk/wp-content/uploads/2019/03/lfo_logo_final_layers-web-180x180.png
Philip Blake-Jones
2019-07-31 12:22:31
2019-08-06 14:12:14
An Operatic Bus Ride around the City of London!