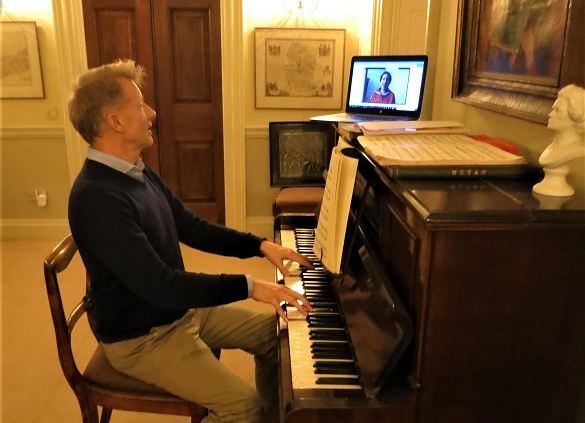 Singing for physical and mental health
The pandemic has savaged the arts and I am very concerned for the future, but there is some consolation in the opportunity to teach again. To be able to pass on what I have learned from some of the country's best teachers. That this might help with health and morale is a precious added bonus.
In the programme Breathe English National Opera has concluded that singing could play a key part in helping to improve breathing and general wellbeing.
A singing teacher's job is to spot and remove bad habits. My Professor at the Royal Academy of Music stressed that improving singing is about 'taking away the mess'. If singing looks easy and natural it usually sounds it. Whether a total beginner, someone who sings in a choir, or you have 'Britain's Got Talent' aspirations, you can improve.
Nothing compares to being in a room together, but the subtleties of good singing can be taught online. The wide range of people I am teaching are improving and most importantly enjoying the lessons
Lessons online make it possible for us to connect from wherever we are in the world from the comfort of our own homes. I'm working individually and in groups with singers online here in Wiltshire and also currently in Yorkshire, Scotland, Germany, Barbados and the USA.
Contact philip@londonfestival.co.uk
https://londonfestivalopera.co.uk/wp-content/uploads/2021/02/FOR-BLOG.jpg
700
585
Philip Blake-Jones
https://londonfestivalopera.co.uk/wp-content/uploads/2019/03/lfo_logo_final_layers-web-180x180.png
Philip Blake-Jones
2021-02-17 19:24:07
2021-02-17 19:24:11
Online Singing Teaching Worldwide!